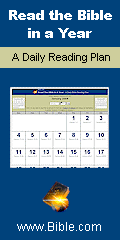 Welcome to BibleResources.org's Daily Bible Reading Plan. Each daily scripture reading has been developed to assist you in your goal of reading the entire Bible through in one year. Beginning January 1st by reading the selected scriptures we have posted on the page, you will finish on December 31. (This usually equates to about 3 chapters per day.)

Should you begin your first reading after January 1st, you may choose to read the selected scripture programmed for that day or in the KJV you can select January 1st and begin at the first of the Bible. Either way you choose you will finish the Bible in a year.

To begin reading, please choose from one of the following versions below.
(KJV) King James Version Daily Calendar
This link will take you a King James Bible Calendar where today's date and reading will be highlighted in yellow. Should you miss a day, you may catch up, or if you want to read ahead this program will allow you to do so.
*(LBLA version) Spanish Bible

*The NIV, AMP and Spanish versions will display just today's scripture reading. Daily scriptures will be updated every 24 hours. (Please note: Because of copyright permissions only one day's NIV and AMP scripture readings may be viewed at one time. You can not go backward a day nor forward a day. Should you miss your NIV or AMP daily reading, you can go to the King James Version above and catch up on missed days by reading that version.)